LOUISA MCELWAIN + FRIENDS
Louisa McElwain + Friends | group Exhibition
Opening Friday, March 31st, 5 p.m. - 7 p.m. on display through April 22nd
Announcement
UPCOMING EXHIBITIONS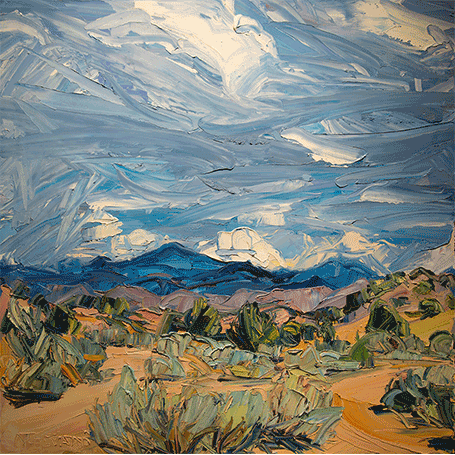 LOUISA MCELWAIN + FRIENDS
LOUISA MCELWAIN + FRIENDS | Group Show
Opening Friday, March 31st
go to artist's page
JEREMY MANN
Experimentations, Process and Emotions
Opening Friday, April 28th
go to artist's page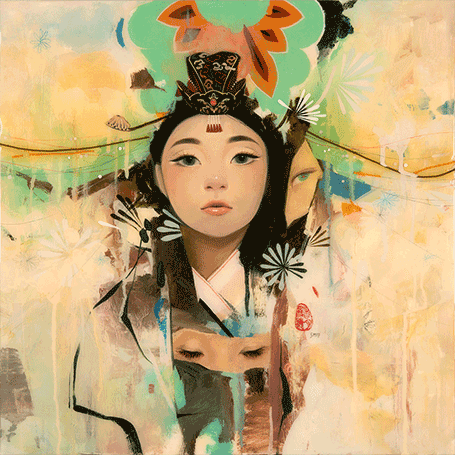 SOEY MILK
KIOKADA 기억하다
Opening Friday, May 26th
go to artist's page
Louisa McElwain + Friends | Group Show
Opening Friday, March 31st, 5 p.m. - 7 p.m. through April 22nd
Louisa McElwain (1953 – 2013) was not only one of the most distinctive and influential landscape painters in New Mexico, she was also an avid art collector. The upcoming exhibit, Louisa McElwain and Friends is comprised of an eclectic compilation of work by the artist's most respected colleagues.
A significant part of this body of work reflects her attraction to heavily applied oil paint. A few of the painterly artists in her collection include Jerry Jordan, Peggi Kroll Roberts and Hannah Shook.
With a mutual passion for nature, it is not a surprise that paintings by Ed Mell are part of Louisa's estate.
The artist also had a fondness for traditional New Mexican folk artists such as Nicholas Herrera, who recently received the Governor's Award for Excellence in the Arts.
A pastel painting by Wolf Kahn is included in this exhibit, collected by Louisa while studying with the renowned Modern painter.
This exhibition will include works from Louisa McElwain's collection, as well as, recently released works from her estate. We have included several paintings by Louisa that reflect the influence her colleagues work may have had on her during her career. Louisa, like most artists, had experimental periods with her art. She did many realistic detailed etchings of fish; she painted colorful beach scenes and took many side trips from her distinctive path as a self proclaimed "extreme romantic abstract expressionist landscape painter".
Watercourse Way Bath House brings the Santa Fe art scene to the spa
For more than 35 years, Watercourse Way Bath House Spa has provided its clients a serene, private experience like no other. Now Watercourse Way in collaboration with EVOKE Contemporary from Santa Fe, New Mexico brings a visual treat to your spa experience. Beginning on April 4th, with Lynn Boggess paintings, through July 3rd, Watercourse Way will transform into an exhibition space showcasing the renowned artists of EVOKE Contemporary. Artwork by a diverse selection of internationally recognized contemporary artists will be on display in the award-winning spa during business hours. The exhibitions will change quarterly and the paintings will be available to purchase by contacting EVOKE Contemporary anytime during the show.
Preview the online catalogue
National Geographic World Legacy Awards
The National Geographic World Legacy Awards have just been announced and Santa Fe, has taken First Place in the Sense Of Place category, the awards' most competitive distinction.
Sense Of Place:
"Recognizing excellence in enhancing cultural authenticity, including using vernacular architecture and design, support for the protection of historic monuments, archeological sites, indigenous heritage, and artistic traditions.
Applicants in this category will showcase how they are involved in the protection and promotion of cultural heritage, providing examples of their projects and initiatives, along with results. These may encompass using vernacular architecture and design, protection of historic sites, support for local cultural and artistic traditions, helping to safeguard indigenous peoples' heritage, and efforts to share and expand on the importance of protecting cultural heritage, including educating local stakeholders and travelers."
Preview our artwork on your wall with our new augmented reality!
We now offer augmented reality to preview artwork in your space. Contact us for further information if you would like to visualize artwork from EVOKE Contemporary artists virtually placed upon your walls. We offer this service complimentary to new clients for up to 3 artwork placements and up to six complimentary placements for repeat collectors. Augmented reality can make it easier to make important art selections by presenting the artwork in any environment in real-time.
Email for instructions
View our scheduled exhibitions
Please check our current and upcoming exhibitions page
Visit our new online Store!
At our new online Store we offer a diverse selection of art books, publications and original artworks priced under $2,000. We will offer season specials and offers available only through the store, so keep an eye on the updates each month online store.
Javier Marín Film
---
Visit the studio of acclaimed international sculptor Javier Marín in this beautifully shot short film. Learn all about his art from modeling to casting, and get a behind the scenes window into his creative process.

During three decades of work Javier Marín has developed a distinguished career as a visual artist that includes, to date, more than 90 solo exhibitions and 200 collective shows in Mexico, Latin America, the United States, Europe and Asia, in venues such as the Museum of Contemporary Art in Rome, Italy; the Royal Museums of Fine Arts of Belgium, Brussels; Royal Palace of Milan, Italy; Bass Museum of Art, Miami Beach, USA; Museo de Arte Colonial de Bogotá, Bogotá, Colombia; Museum of Contemporary Art of Oaxaca, Mexico; Amparo Museum, Puebla, Mexico; Espace Pierre Cardin, Paris, France; Museo del Palacio des Bellas Artes, Mexico City, Mexico; among many others.

In 2008 Marín was honored with top prize at the Third International Beijing Biennial and was awarded a prestigious project for the Zacatecas Cathedral (a UNESCO World Heritage Site) in Mexico. In 2010 his monumental altarpiece in Zacatecas was unveiled and he also presented sculptures in Shanghai (World Expo 2010) and Brussels (Royal Museums of Fine Arts of Belgium).

Marín's artworks demonstrate remarkable knowledge of the human form garnered from years of drawing directly from the figure. He began sculpting exclusively in clay, later moving to bronze. In recent years the artist has embraced innovative methods such as combining polyester resin with organic materials such as seeds, tobacco, soil or dried meat fibers.

Process is an obvious passion for Marín — spikes of bronze are often left exposed to show the paths of molten metal flowing into the cast figure. During the creation of a work, words might be inscribed quickly into the raw clay, holes gauged, or support structures left exposed. It is this deliberate coarseness combined with Marín's elegant classical approach to the figure that give his sculptures such power and substance.
Visit the artist's page
new work by JAVIER MARÍN on display
---
Maqueta reflejo VII
bronze and resin, 28 x 10.25 x 52 high
base, 32.5 x 19.5 x 31.5 high, (edition 8 of 8)

inquiry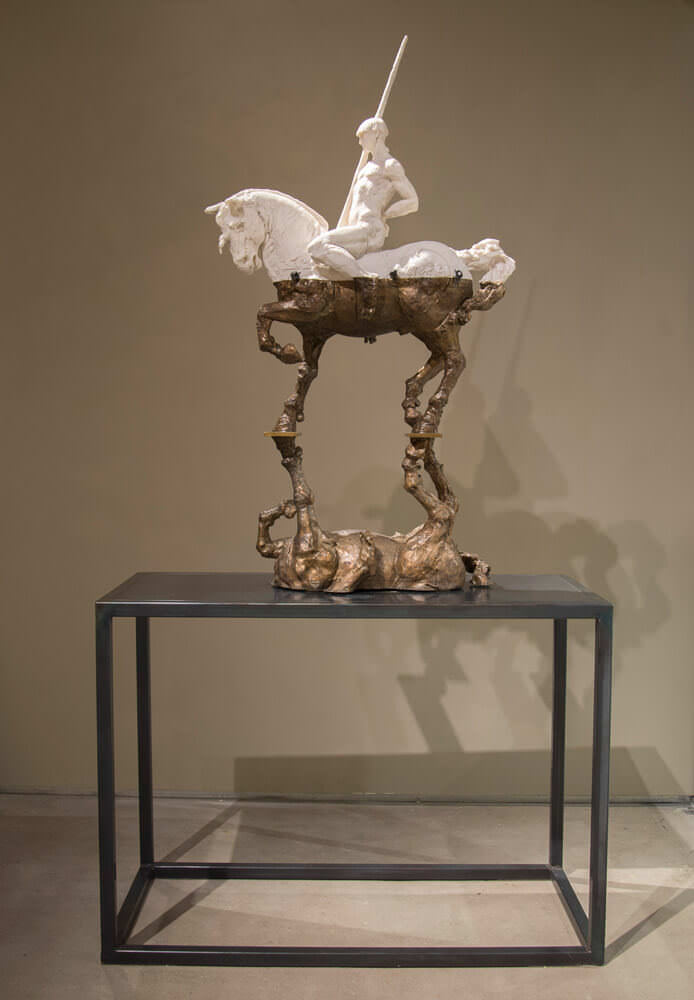 The New Mexican's Weekly Magazine of Arts, Entertainment & Culture, Friday, January 6, 2017 has selected Julie Speed's artwork for its front cover, as well as, a four page art review written by Michael Abatemarco.
In the gouache and collage paintings of multimedia artist Julie Speed, inanity and folly interrupt the mundane, heightening the drama of otherwise unremarkable moments. A tearoom becomes the setting for an act of torture, for instance, and a parlor scene becomes a surreal conflation of incongruities. The parlor scene, a painting called Hammerhead, depicts two women sitting on a sofa beneath historic Japanese art prints and an image of the Pietà. One woman is reading, while the other is grasping at a writhing hammerhead shark. You can wonder at the work's possible meanings, but for Speed, meanings are subjective.
Read the full article
2016 Best of Santa Fe: one of the top three contemporary art galleries in Santa Fe
Santa Fe Reporter readers have selected Evoke Contemporary as one of the top three contemporary art galleries in Santa Fe.
Thank you Santa Fe and Santa Fe Reporter! We are honored and grateful for your appreciation and support.
Over 250,000 votes by over 17,000 readers were cast in the final round of 2016 Best of Santa Fe voting.